I received yesterday the three Devotional Books that I ordered from Review and Herald Publishing via our church order (with 20% off) and I am so ecstatic to start reading it. Two devotional books are for our morning and evening reading which are written by my favorite authors, and I shall be showing them off next time and the third one is for Primary where Triz belongs to. What I got right now is Triz's and it is this: God's Big Idea by Rosanne Tetz.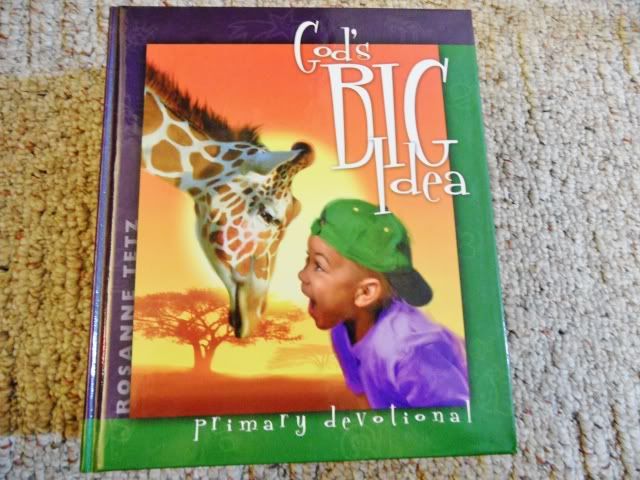 It is composed of 366 daily readings which is best to be grasped in the morning before her active day starts. Since I received it on the 28th day of the New Year already, we have to do a lot of make ups to be able to reach the regular daily readings. Which is very much fine because my five years old is such an active reader which I am so thankful for!
The daily readings consist of a title, a key Bible text, and the content:
I grew up from a family that does morning and evening worship every day and that's what I want my daughter to grow up with, too. I can see a difference in her character, attitude, and faith in God when she is very much communed with God through the shows that she is watching (she watches Kid's Time TV and Sonbean Channel regularly, along with PBS Kids), the music that she listens to, and the books that she reads. Aside from her Kindergarten textbooks and other books that I got for her, she has started reading her Bible, too. She questions us with so many things about the stories in the Bible and I can only thank God that if I am not able to answer her clearly, the Daddy is always around to do it for me!
I myself am a lover of books, and I truly believe that when your child sees you spending time reading, she will learn to follow what you do, too.