Archive for the '366 Blog Photo Challenge' Category
Today is Christmas Day, as the calendar says it and as the world celebrates it. So to all of you, Merry Christmas!
Also, today, being the 25th of December, is the very birthday of Momi Jess, the December BPC host, so with that, I want to greet her a very happy birthday! Isn't it awesome to be celebrating on the date that the world celebrates Christ's birthday as well?
Today, all of you must be really busy opening presents underneath your trees. For kids, this is the most awaited day because of those precious stuff that will be unwrapped today. So, what did you get for Christmas, friends?
If you ask my daughter Triz, she would say, "My mom got me the Kindle as her early Christmas present last October. She and my Dad got me all of the things that I need and some that I want all year round. I got my baby sister last summer. I have lots of love in my heart, kisses to give, and more love. The best of all though is that I got Jesus!"
And then, she got her most desired McKinley Bobcat shirt last week!
I ordered it online and wrapped it when it got delivered. She didn't know that the wrapped present was the shirt so when she saw it, she said she'll wait till December 25 to open it, along with the other presents we got for her. However, I told her that she need not wait for a particular date to open it and when she later agreed, she decided to find out what was inside. To her joy, it was her school shirt!
And she was the most grateful recipient thanking me endlessly and telling me how much she loves it. I asked her if there is something else she wants for Christmas but she said nothing else as she has everything she needed. Yes, I have a contented daughter around here!
My 311th of the 360/366 BPC
Six more days before the BPC 2012 will be over!
So, what did I do on December 12th 2012? Well, nothing special, really, except for these holiday greeting cards, a postcard, and a package that I have prepared for my loved ones and friends and they all were mailed yesterday– 12.12.12.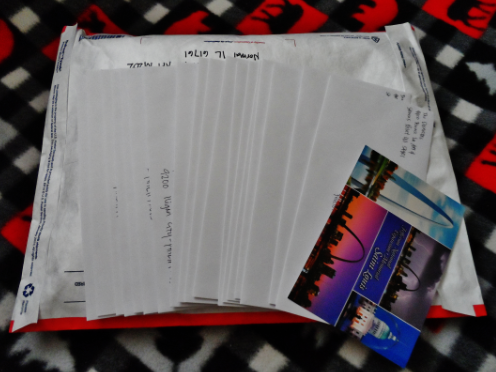 I didn't customize a lot of photo cards this year. I only did 20 of them and sent all 19 to my loved ones and friends. It's tough because there are a lot of people that I want to send my season's greetings to but my cards are limited. Thus, I only sent them to the chosen few; mostly to my loved ones and best friends back home in Philippines, to our family in Vegas and our friends here who I am so thankful for. For those friends I often chat with in Facebook, I didn't send you anymore since we can always greet each other online, except for those who my gratitude really abounds.
How about you? Have you mailed your holiday cards yet? What something special did you do on 12.12.12?
My 299th of the 348/366 BPC