Okay, so the first time I've heard and seen clipix, I was a bit skeptical about it. I have had a feeling that it is just going to be another site out there that adds confusion to my social networking affiliations. Well, I tried it and learned that clipix is so cool after all! It brings so much organization to my chaotic online life!
See, in all the browsers that I use every day, there are multiple sites bookmarked on it. And to go back to a particular website or page that I once have stumbled upon in the past is quite a tedious task trying to find which folder I saved it. And what do I know? Clipix is the answer! Indeed, a perfect way of organizing our life online.
I already have a bunch of clipboard in my own clipix account and the last one that I have recently finished managing is my vacation ideas clipboard. It's this: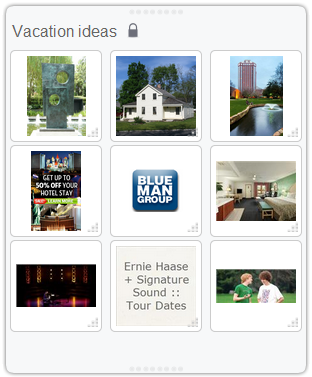 I saved the websites of the places that we shall be going for vacation for this year. I have our upcoming Michigan trip, our planned Las Vegas vacation, and our Dallas getaway in the Fall. It's so easy to just check this clipboard out when I need to review our itinerary and travel plans. No more bookmarking of sites because I was able to put everything together in just one clipboard. Yep– that's how clipix does! Way too cool a way to organize our online life, right?
And you can start clipping your desired pages, too, using clipix! Watch this video below for more information:
Enjoy managing your online life and start the organization through clipix!
Promoted Post