So red! Because I love red a lot! Lol.
Got this red trench coat during the Black Friday madness last year because I thought I wanted one which is lighter. I used it for my Sabbath dresses and it fits perfectly.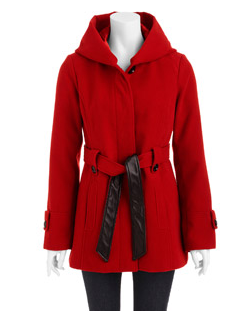 Now that I have gotten bigger due to my pregnancy, I still can use it. It's great that the weather has started to warm up, as I don't need to zip the coat when I put it on. Last weekend, it was the only jacket that I brought when we went to Michigan. It kept me warm during the night we were out.
Here's me and Triz at the main entrance of Andrews University campus, before heading to the Ernie Haase & Signature Sound Concert:
It was in the high 40s when the night came, so we were just so fine with how cold it was. 🙂