As a Stay-at-Home-Mom (SAHM) right now, it is tough juggling household chores, wife duties, mommy roles, and personal development activities altogether. However, I am proud to say that I have included schooling in my personal affairs this past year. I started taking Pre-Nursing classes at the university last year and last Spring, I took up Nursing Assistant course, too. That was when I had to wear a scrub and I enjoyed it!
Here I am, during one of those breaks when I did my clinical at the Portage County Health Care Center: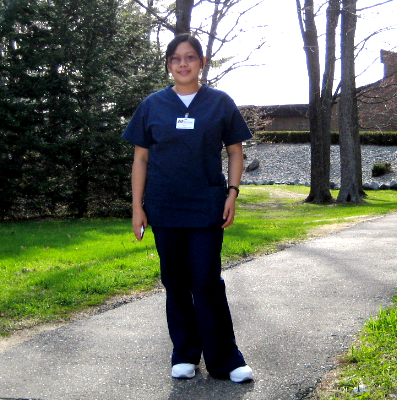 It was when I took this class that I was up to looking for cheap scrub sets for my uniform. Thankfully, our school has its own tailoring that provides uniforms for students, just like scrub uniforms. It gave us a chance to wear a really customized size since it fitted perfectly on us.
However, the site
http://www.blueskyscrubs.com/categories/Scrubs/Scrubs-for-Women/Original-Scrubs/ is worth recommending. It is where most of my Nurse friends ordered their sets of medical, dental, and nursing uniforms because of the wide selections of scrubs and the prices are also affordable. Now that I have a friend who is starting with Nursing school, I shall be letting her know about this site. For sure, she will enjoy ordering a pair or two of those neat-looking scrubs for aspiring health care professionals!