My daughter Triz is the happiest kid in the world right now! You see, she has been wanting a fish for a pet when 2012 started. She thought having one would be a lot of fun, but I have always countered her want with a NO as for me, as long as we're still living in an apartment, I won't be letting her have a pet. A fish for a pet is her only desire, so last February, she patiently came up with a pretend aquarium with a fish on it.
She asked for a permission from me during our class hours if she could make a craft that's not related to our lesson and she won't show it to me until it's finished. I let her be, and guess what she made? A pretend aquarium which she imagined to be her pet fish! :))
And what do you know? I was but oh so amazed with her brilliant idea! 🙂
She turned the shoebox into a pretend aquarium, decorating it with an aquarium-look atmosphere. When she made that, I felt guilty that I had to hug her and asked her if she really wanted a real one so I'll just get one for herself. But her answer? "No, Mang! This will do. I'll just wait till we can live in our own home like what you said. I understand your concern." I sure have a brilliant kiddo! Lol.
But then, God provides for His children's needs, right? And for my daughter's part, God provides for her wants, too! Last night, she got to take this aquarium home with two fishes on it named Jack and Jill.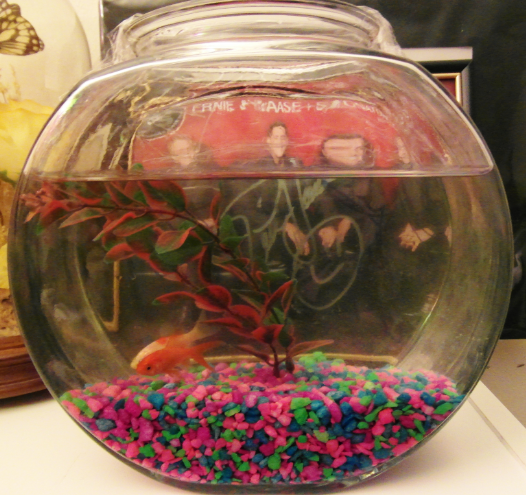 This is Mister Lem and Teacher Doreen's gift to her for being their favorite kid and student in Sabbath School and in the Kids' Group during the 17-Night-Bible Prophecy Seminar at church. They told me last weekend that they've thought of giving this to Triz when the seminar will end as a reward for Triz's perfect attendance during the entire series and that Triz has been so wonderful all throughout. They didn't inform Triz about it as they wanted it as a surprise so I have to keep it a secret for a week. Last night, when Mister Lem handed it to her, she was so ecstatic! She couldn't believe it! And then she exclaimed, "God granted my wish to have a fish for a pet; not one, but two of them!"
Yes, I do have an awesome daughter! 🙂
121st/128th of the 366 BPC